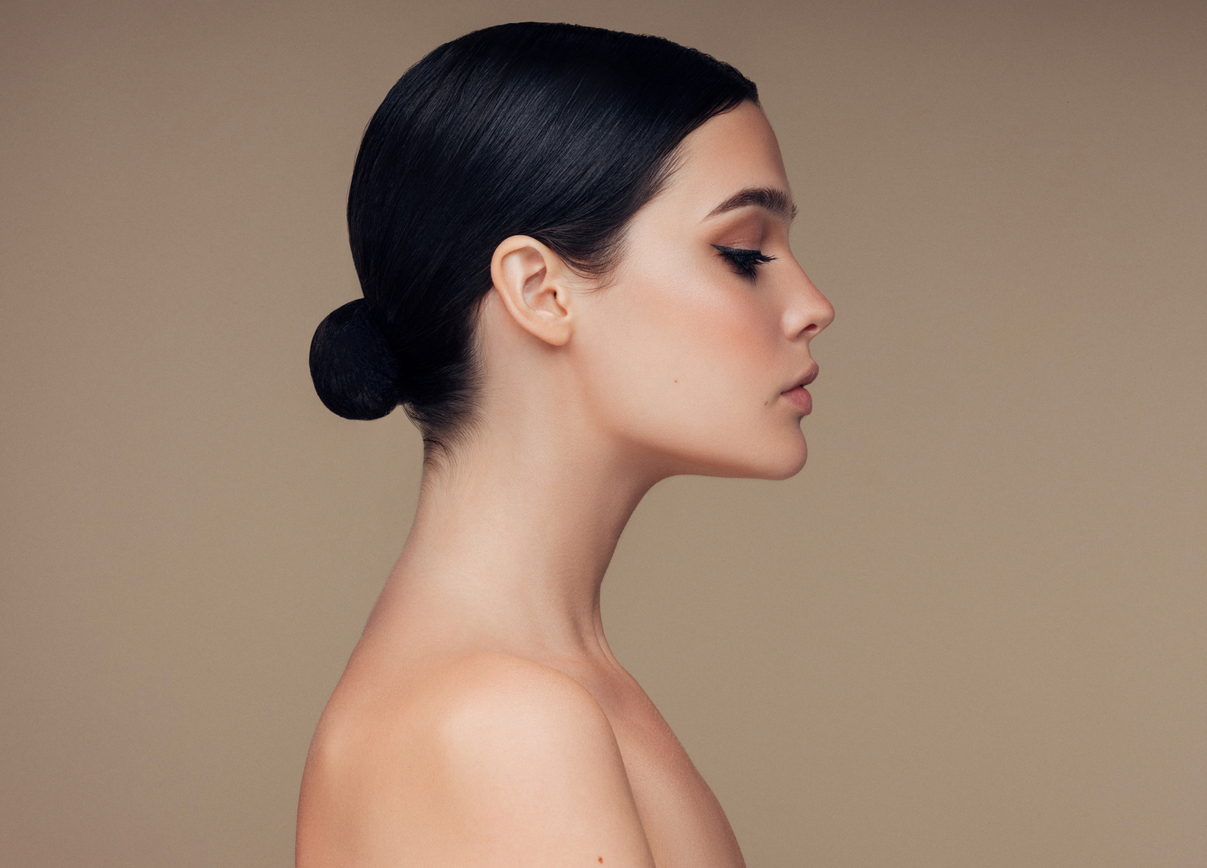 Altering the size, shape, or projection of your nose can be achieved either surgically or non-surgically, but which is best for you? A "liquid rhinoplasty," or "non-surgical rhinoplasty" is an alternative to a surgical rhinoplasty – but it is not an appropriate treatment for every aesthetic or functional nose issue. If you are unhappy with some aspect of your nose shape, size, or projection, the first step in finding out if you are a good candidate for this option is a private consultation with us at The Maercks Institute.
When is a non-surgical rhinoplasty performed?
A non-surgical rhinoplasty may be the ideal approach for minor aesthetic nose issues, such as camouflaging a minor hump on the bridge, subtly lifting a droopy nose tip, resolving asymmetry, or enhancing the look of a pinched nose tip. This injection approach can create refined definition at the nose tip, bridge, or base, or add volume to a flatter or smaller nose or bridge.
Instant results with a non-invasive, liquid rhinoplasty
A non-surgical nose job is far less invasive than surgery, with the benefit of instant results. It is less costly but requires retreatment, as the filler will be absorbed over time. This approach has another hidden advantage: If you don't like the changes, it is reversible, with injections that dissolve filler.
For some people, adding volume to the chin can create a more ideal facial balance, making the nose appear smaller, improving harmony among the facial features. When we evaluate your nose, we look at your entire facial structure, and can speak with you about the best approach for you.
When a surgical nose job is the best approach
Some nose shape, size, or projection issues can't be resolved with injections of dermal filler. If you need a more dramatic change, you will need to undergo rhinoplasty surgery. A surgical rhinoplasty is the right choice if:
You have a severely crooked or broken nose
You have difficulty breathing through one or both nostrils
You feel your nose size should be reduced
You have a large, noticeable hump on the nose bridge
You want to resolve wider or larger nostrils
Your nose bridge needs to be significantly elevated
Some nose conditions cannot be solved with dermal filler injections. If you want to alter the look of a large or bulbous nose tip, wide or elongated nostrils, a larger hump on the nose bridge, or reduce the projection of your nose, a surgical approach is needed.
How to achieve the best results with a liquid nose job
The beauty of a non-surgical nose job lies in the hands behind the needle. Dr. Maercks is a board-certified plastic surgeon with an exceptional level of training and experience in facial plastic surgery. He performs non-surgical rhinoplasty treatments to achieve more ideal balance among your features. His approach is a combination of advanced skills in aesthetics and an artist's eye for balance and harmony.
What is it like to get a non-surgical rhinoplasty?
You will be seated or lying down comfortably for this procedure. The nose and surrounding skin will be cleansed, and ice or numbing cream applied to minimize discomfort. Tiny quantities of HA (hyaluronic acid) filler are then injected into the areas of the nose to correct. The filler is then molded and smoothed to create the most aesthetic result.
Recovery – pros and cons
With a non-surgical rhinoplasty, you can expect little to no recovery time, although initially you could experience minor swelling or redness at the injection sites. To maintain your new look, you will need injections to be repeated regularly. With a surgical nose job, you will have a longer recovery time, but will never again have to worry about your nose! The changes last a lifetime.
Meet with us.
When under the care of Dr. Maercks, you can trust that whether your rhinoplasty is performed surgically or non-surgically, the most advanced, precision techniques are used. We are known for achieving truly exceptional outcomes. Come and meet with us in a private consultation at our boutique clinic in Miami.