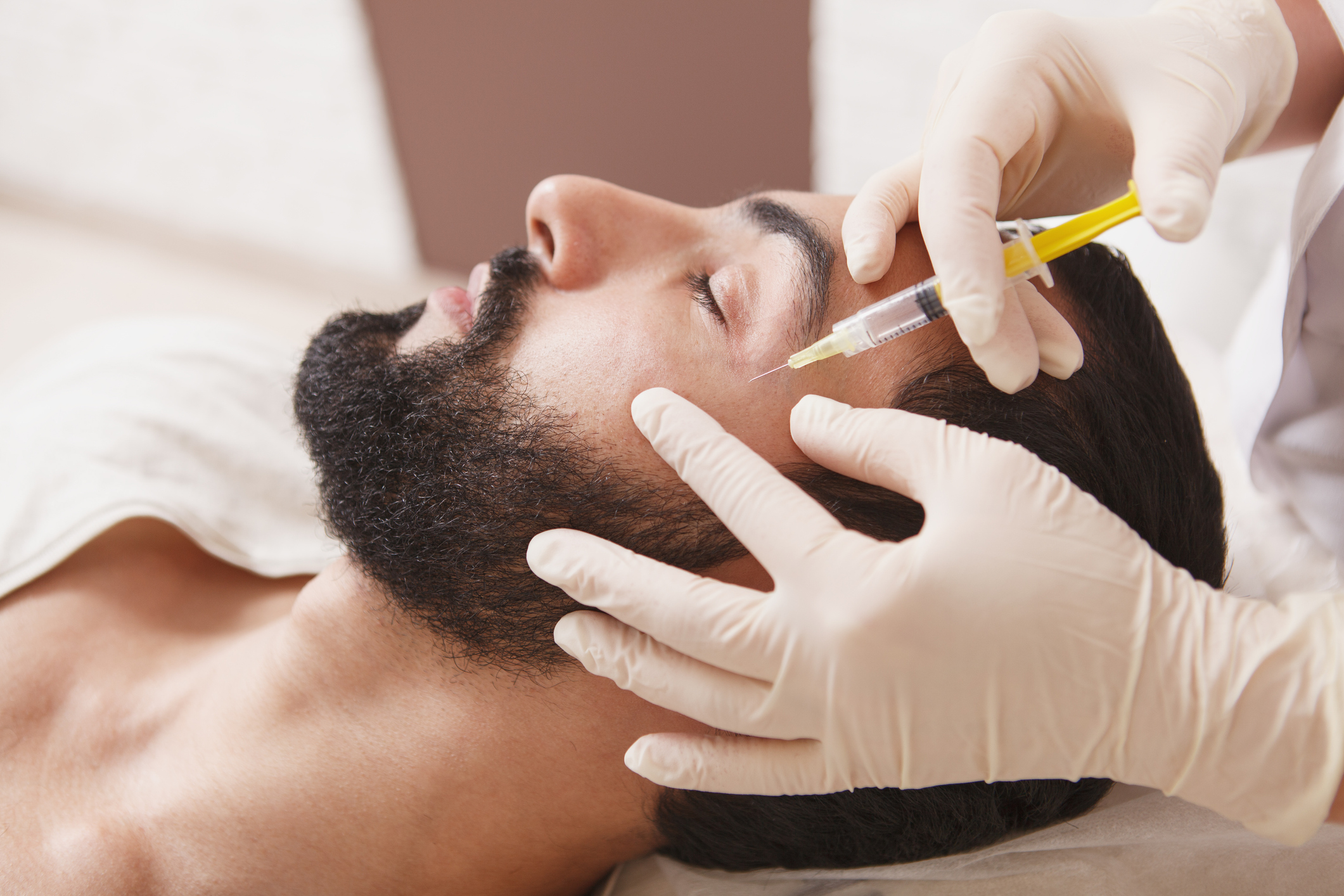 While statistically speaking, plastic surgery procedures are still done by more women than men, the number of men having cosmetic work done is rapidly increasing. As of 2019, 8% of plastic surgeries in the United States were done on men, for a total of 1.3 million procedures: 211,000 of them being surgical and 1.1M of them being minimally invasive procedures.
Men opting for plastic surgery often do so because they discover that some of the many procedures available align closely with the ideals they hold for their physique and build.
The most popular male enhancement procedures include SFW procedures like nose reshaping and eyelid surgery, liposuction to reduce gynecomastia, and hair transplants. As for minimally invasive procedures, Botox holds the number one spot in the male market, and we'll dive into that and more as we look at how the most popular male enhancement procedures might just be right up your alley.
Most Popular Male Plastic Surgeries
The five most popular plastic surgeries for men are:
Hair Transplantantation
Most Popular Male Cosmetic Procedures
The five most popular minimally-invasive male enhancement procedures are:
Microdermabrasion
Dermal fillers
Chemical Peels
Male Facial Plastic Surgeries Worth Considering
Male Rhinoplasty - Reshaping of the nose and eye and brow lifts make for perfect procedures for men looking to improve the most obvious aspect of their appearance. Male rhinoplasty, the most popular, allows for both the structural and functional improvement of the nose, refining its size, shape, and projection.
Male Facelift - All of us, whether male or female, are greatly affected by the typical signs of aging. The facial skin losses some of its underlying collagen and elastin support structures, and it begins to droop, sag, and wrinkle. A male facelift is most popular in the late 40s, and early 50s after these signs of aging have become more prominent. Until then, at #1 on the list of most popular minimally invasive male procedures, Botox is an excellent deterrent for these signs of aging and a quick way to reduce the prominence of wrinkles and creases safely and folds caused by our facial expressions.
Male Physique Plastic Surgeries Worth Considering
Male Breast Reduction - While women often wish to enlarge their breasts, men choose to do the opposite. Such is life. Pseudo-gynecomastia and gynecomastia affect a staggering number of otherwise healthy men. The condition doesn't predispose one to poor health but is mainly a visual and cosmetic concern. Hormonal imbalances cause gynecomastia, and the most effective solution for it is gynecomastia surgery. The procedure is simple and straightforward and uses liposuction to remove the excess fatty tissue. Glandular tissue may also need to be excised.
Male Liposuction / Liposculpture - In earlier times, liposuction was the signature plastic surgery of a few famous women. Today, it's one of the most widely performed plastic surgeries, and men have it all the time, including men who are incredibly ripped and simply looking for some fine-tuning. There's nothing particularly feminine about liposuction as it can be perfectly tailored to fit the male physique in a procedure called male liposculpture. Liposculpture not only removes some fatty tissue but is used to physical sculpt the male body in all of the classic problem areas.
Male Intimate Enhancements Worth Considering
Penis Enlargement - Exiting the SFW category of male plastic surgeries, we come to penis fillers. For increased girth and length and improved appearance of the phallus, synthetic or natural fillers can be used for an approximately 20 - 30 percent increase in penile length.
Scrotox - When the American Society of Plastic Surgeons tells us that Botox is the most popular minimally invasive cosmetic procedure for men, it's difficult to know if they mean that men everywhere are getting Scrotox or if they're opting for the more classic uses of the product. In any case, Scrotox is Botox used to improve the appearance of the male genitalia and can also tackle pain in the area. The treatment reduces wrinkles and lets your testicles hang lower and look more prominent. What's not to love about that?
For more information on these and other male enhancement procedures, contact us for a discreet personal consultation.